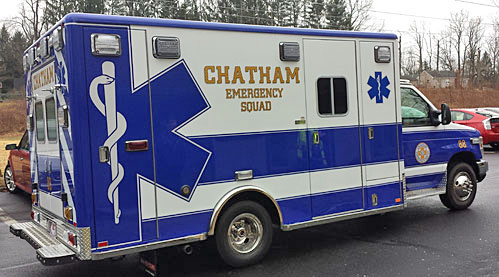 When a resident of the Chathams (NJ) calls 9-1-1 for a medical emergency, we are the ones who respond, 24/7/365. We help residents with medical services and provide ambulance transportation to area hospitals. If the illness or injury is life-threatening, we call for paramedic support. We've been providing this volunteer service for over 65 years. Currently, we respond to nearly 1200 calls per year.
Your call to 9-1-1 goes to the Morris County Communication Center, which dispatches the Squad in case of a medical emergency. The Squad's duty crew meets at the Squad building and drives the ambulance to the scene, arriving at the scene within minutes. Depending on the nature and location of the call, other Squad members go directly to the scene as "area responders" in order to provide the earliest possible care.
We also provide Medical Profile Wallet Cards which can be used by seniors and individuals with serious medical conditions to provide important medical information to our crew. Download the wallet card or email our Public Relations Manager and ask us to send you a free wallet card.

The mission of the Chatham Emergency Squad has six elements:
To render emergency life support and ambulance transportation to Chatham Borough and Township residents and visitors in the event of accident or sudden illness
To transport Chatham residents whose health requires non-emergency ambulance transportation to and from hospitals or nursing homes
To render miscellaneous assistance to Chatham residents in such matters as moving helpless, sick, injured or elderly people to and from automobiles or upper floors of homes
To improve the preparedness of the Chatham community for medical emergencies
To participate in emergency disaster work as required by Emergency Management authorities
To assist neighboring communities when their ambulances are not available


All Squad members are certified by the State of New Jersey as Emergency Medical Technicians (EMTs). To achieve this distinction, we undergo a rigorous 200-hour training course and have to pass a demanding New Jersey State test. We are trained in emergency care skills, including cardiopulmonary resuscitation, automated defibrillation, use of definitive airway adjuncts, oxygen therapy, first aid, splinting, assisting patients with certain medications, and lifting and moving patients. We are even taught how to deliver babies, and have exercised that skill on several occasions.

We have an annual budget of over $200,000, but we never charge for our services. Our resources come from three sources:
Voluntary contributions from Chatham residents and civic organizations
Minor funding from the Chatham Borough and Chatham Township municipal governments ($10,000 each)
Contribution of time and energy by the Squad membership, without pay

We are always in need of members to replenish our ranks. If you want to be a part of a proud organization and serve your community during its times of greatest need, go to the Volunteer page to find out more. Your obligation will be one 12-hour day or night shift per week, and one weekend day shift per month. In return, you'll reap the intangible rewards of helping neighbors in distress.
---